Science Selective Supreme Guinea Pig 2Kg
$24.95
Naturally tasty and healthy
Have you looked at the food label for your guinea pig recently? We recommend that you do this as many guinea pig foods contain molasses or syrup, or other sugary ingredients. These extra sugars can lead to overeating, obesity and dental problems.
Daily food for guinea pigs of all ages

Monocomponent Extruded Kibble - Prevents selective eating

With stabilized vitamin C - essential for good health

With natural antioxidants to promote vitality

Balanced Protein (16%) - Helps maintain a healthy weight

Rich in natural ingredients

Without added sugars and low in calories to prevent obesity

High fiber content (15%) for healthy digestion and healthy teeth

Correctly balanced calcium: phosphorus ratio - calcium 0.6%, phosphorus 0.5%

Prebiotics (MOS) to support healthy bowel movement and digestion

Enriched with vitamins and minerals

With linseed - a natural source of Omega 3 & 6 for healthy skin and coat

With tasty dried fennel and dandelion

Very tasty and fully extruded, making nutrients easily digestible

Compositions based on published scientific research

Recommended by veterinarians

Recyclable packaging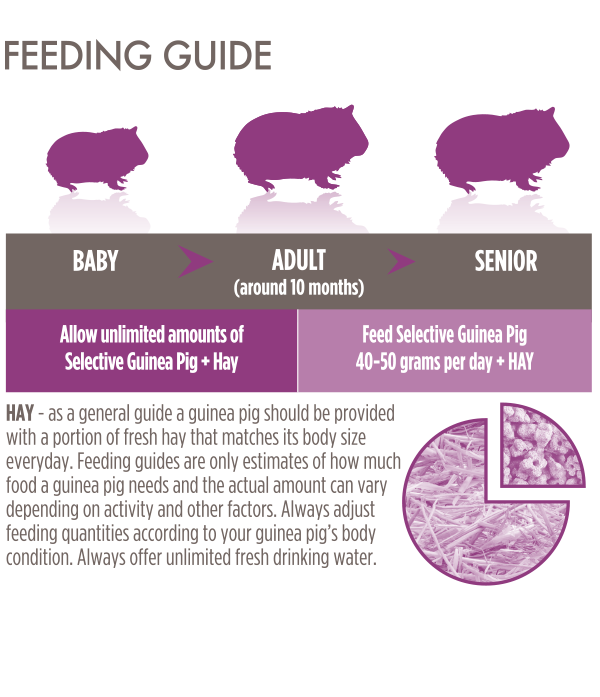 Nutritional Additives / KG
Vitamin A 37500 IE Vitamin C 800mg Vitamin D3 2000 IE Iron (E1) 50mg Iodine (E2) 1.5mg Copper (E4) 7.5mg Manganese (E5) 30mg Zinc (E6) 100mg Selenium (E8) 0 , 25 mg
Analytical Constituents
Crude protein 16.0% Crude fiber 15.0% Crude fat 4.0% Crude ash 6.5% Calcium 0.6% Phosphorus 0.5%
Composition
Alfalfa flour, wheat, wheat grits, soybean hulls, soybean meal, pea flakes, linseed, soybean oil, calcium carbonate, prebiotics (MOS), dried fennel, dried dandelion.